Easter Bank Holiday Weekend events for you to check out!
Thursday 18th April
Come showcase your love for Beyonce and Rihanna on the floors of Trapeze in Shoreditch as you party through the night. Enjoy both their evergreen and fresh music, as well as music from other stars you love, in this event hosted by Supa Dupa Fly.
Enjoy an opportunity of a lifetime as Affion Crockett cracks you up on his stand-up special, Live and Uncut, in London. This event is proudly supported by UK's hottest comedians and is surely going to be a night to remember.
Easter Garage Rave w/ DJ Luck and MC Neat
Start this year's Easter with a raving Thursday night at the Easter Garage Rave, where DJ Luck and MC Neat will be bringing the heat and making this weekend egg-citing. Garage Juice and Garage Sessions are coming together to make this super special.
Come along and chill at the Allstars' GAMES NIGHT Bank Holiday Special right inside The Lighthouse Bar & Club. Play games, mingle, catch a vibe and groove to beautiful music played by DJ Kopeman & DJ Jinglez and start this holiday on a high note.
Friday 19th April
Stefflon Don is going to be in London on the 19th as part of her UK tour. You won't want to miss this sensational concert at the Eventim Apollo. Other special guests that would be making the night a blast are Rudimental (DJ Set), Russ Splash & LD.
Are you a lover of the Afro culture? Then, you don't want to miss the Chicken 'N' Beer: AFRObowl at Bloomsbury Bowling Lanes, London. Come with your dance as you groove to Afro sounds with games, food, photo booth, and karaoke as side attractions.
Make this Friday special as DJ Luck & MC Neat play their finest selections of anthems and dubs from the late 90s to now. Make sure you are at The Camden Assembly if you're an Old School Garage raver!
Celebrate with MC PSG at the PSG Birthday MANSION All Day Party at the Belair Mansion House in London. This ticket-only event is available to those who catch the limited tickets on time. Don't miss the good music and live performances.
Saturday 20th April
Enjoy a fun-filled night out at the Chocolate Men London Show at Spearmint Rhino London. This show will entertain you with hot butlers, exotic dancers and a host of surprises to make your night a frenzy experience. Perfect for any party.
You don't have to be a professional artist to enjoy the London Paint Party at The Old Street Gallery in London. If you love the idea of creating your own masterpiece while nibbling on great food and listening to great music, make sure to be there.
Enjoy a night of circus performances and great party at the Twisted Circus in Shaka Zulu, London. Blow your mind with unbelievable stunts by professional entertainers, while DJs play the best music across genres. You will love this show.
Show your love for all things black at the Lux Saturdays All Black Party taking place at the Revolution Leadenhall. Grab your tickets and enjoy music, drinks and shisha into the night.
Head down to Lockside Camden if you want to fill your night with good vibes and great music. Enjoy the hottest music, ranging from hip hop to RnB, among others.
All lovers of great music, explore the amazing atmosphere presented at the Sweet Fantasy event taking place at the luxurious Revolution America Square. Dress to impress, smart attire is essential. DJs will be playing the best hits across the genres.
Join the Legendary RnB DJ Trevor Nelson, as he takes you back in time by dishing out #Classic RnBs from as far back as the 80s and 90s. Groove to classics from stars such as LL Cool, Joe, Ashanti and J-Lo.
Head down to Scala for the 3Way Super Easter Party.. This is a 3 events in 1 experience, with DJs setting the floor on fire. 1000+ ravers, 3 arenas, what else could you want?
Sunday 21st April
Shisha Sundays Easter Special
Make Easter Sunday count with the Shisha Sundays Easter Special at Beach Blanket Babylon in London. This is an opportunity to mingle with old friends and make new ones, as DJs drop hot jams on the floor. There is enough shisha, food and music to go around!
Bring your celebration to OSS: The Birthday Spot - Bank Holiday Special at Sink Pong and enjoy unrivalled fun. Their DJs mix up Hip Hop, RnB, Bashment and Old Skool every week fused with added fun and entertainment including free popcorn, ping pong, beer pong, giant jenga, mega Connect 4, video games and board games.
Trendin is the brand new hangout Camden for you to join if you love great music, games and prizes. A perfect spot to chill with friends and also hold your fun birthday parties. Happy Hour is from 8:00-9:00pm, with discounts on selected cocktails, drinks and wine. Who doesn't love a great deal?
Get in the groove at the Hip Hop Karaoke Easter Bank Holiday Special! This highly anticipated event is holding at Hoxton Square Bar & Kitchen in London. With a live DJ right on site and over 200 songs to choose from, the night is going to be special!
It's going to be a battle of genres at the Hip-Hop vs RnB vs Dancehall - Easter Sunday at the Trapeze Basement in London. Legendary DJs will be handpicking the best sounds and keeping the spirit high all through the night. Come with your crew!
Enjoy the fusion of Hip Hop and Afrobeats as Faded team up with Panache to lay it thick at 229 The Venue in London. Two powerhouse event brands coming together to deliver an amazing night.
Award-winning Nigerian DJ Spinall brings a different vibe at the DJ Spinall - Party of Your Dreams in XOYO. DJ Spinall is the first African DJ to perform at the SXSW festival in Austin, Texas. He is now bringing his vibes to London, don't miss out!
Escape into the world of surreal music at the ESCAPE meets CLUB 2020 at Loop Bar. This event is a fusion of two giant events, synergized to blow your mind. Exclusively for those aged 30+, this event is for the smart and sophisticated. Classics and slow jams, Hip-Hop and Afro beats.
(-(-( ROLL OUT )-)-) BANK HOLIDAY ALL NIGHTER
Enjoy roller skating in London with the (-(-( ROLL OUT )-)-) Bank Holiday All Nighter at Roller Nation. Of course, there will be music – lots of it! Remember the ATL skating movies? That's what you can expect!
Monday 22nd April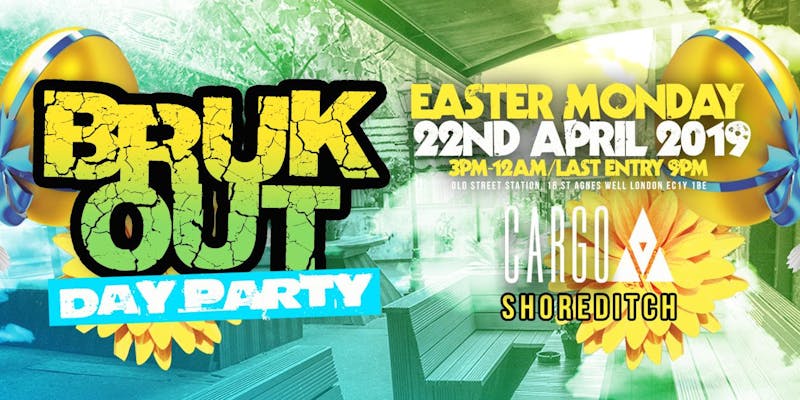 For those of you with energy to keep going on the Monday, Bruk Out is back with their day party edition! Music policy will be Bashment, Reggae and Soca with a hint of other genres!
Afro Nation Festival in Ghana this December 2019