Events to Check Out This Bank Holiday Weekend In London
This Bank Holiday weekend, Shoobs is bringing you a whole bunch of events that will have your weekend sorted!
You've got live concerts, bowling, some club nights, boat parties and many more activities for you to get up to. Make sure to read on if you want to tick off your plan to get lit this weekend!
Rampage Sound Carnival Weekend
Don't miss the Rampage Sound Carnival Weekend, one the UK's hottest summer events!
In lieu of the Notting Hill Carnival, this epic party event will be hosted at E1 London 12PM-7PM on Sunday 29th and Monday 30th August!
With epic carnival anthems from the best in afrobeats, dancehall and urban music, you'll have no choice but to dance 'till you drop!
Last entry is 4PM, so don't delay grabbing your tickets here and here!
The line-up includes artists Donae'o, Stylo G, Amaria BB, Big Zeeks, Maxwell D, and Triniboi Joocie on Sunday, and Wstrn, General Levy, Alicai Harley, Kele Le Roc, Doktor, and K More on Monday!
With two rooms of music, a slew of authentic carnival dancers and performers, and a tantalising array of Caribbean food stalls, this event holds all the ingredients to cook up a weekend to remember! Grab your tickets for Sunday and Monday now!
Faded – Carni Inna Cargo
Yes, Notting Hill Carnival may not be happening this year, but Faded will be bringing you all the Carnival vibes you need!
At Cargo, Shoreditch, from 2pm-11pm, dance & raise your glass to summer clubbing at Faded – Carni Inna Cargo!
Lose yourself to some Caribbean Soca, Calypso, Dancehall and Bashment.
Sing along to some R&B… book here now & join Faded's club event for a fantastic night out, that you won't regret.
Rhythm N' Rum
On Friday 27th of August from 6pm- 12am, there'll be plenty of Caribbean tunes to vibe to, delicious food to eat & punchy cocktails at the Rhythm & Rum event at All Star Lanes, Stratford!
Book a ticket here for Retro bowling, live music and DJ's who'll be playing Soca, Calypso, Dancehall, and many more!
From 7-10pm, they provide tasty, authentic dishes made by Rhythm Kitchen, offering classic choices, like Jerk chicken and plantain.
Also, we can't forget about the drinks, can we? If you fancy a drink that'll keep you dancing all night long, Rhythm & Rum offers a lovely variety of fun, themed cocktails.
Tim Westwood Bank Holiday Monday
At Tim Westwood's Bank Holiday Monday event, you'll experience three rooms of Bashment, Afrobeats & Hip-Hop tracks on the 30th of August from 10pm - 5am.
Tim Westwood, one of the nation's most popular DJs will be giving you the best tracks from the evening to the early hours.
Quality drinks, a great atmosphere & everything you need for a great night out... so what are you waiting for?
Book a ticket now, as first few releases & VIP tickets are already all sold out!
Made In 90's 28+ Party – Milktray Birthday
Do you hold a nostalgic love for 80's and 90's urban classics? Then the Made In 90's 28+ Party is the place for you!
Hosted at the sleek Mint Leaf Bar from Saturday 28th 10:30PM-3:30AM this classy event will bring you the best old skool music can offer alongside a serving of authentic Indian cuisine and cocktails!
Go on a musical journey with DJs including DJ Milktray, Melo D, and Simple Simon, among others.
Seize the chance to hear your favourite R&B, funky house, bashment, and reggae classics in the gorgeous and low-lit Mint Leaf Lounge, and indulge in spectrum of tantalising and expertly-mixed drinks.
This is a mature event only for real lovers of old skool grooves – dress up smart 'n sexy to steal the show!
You'll need to be photo-ready for when you meet these epic DJs.
Don't miss your chance, book here!
Master KG's "Jerusalema" Live Show
Master KG, will performing live on the 28th of August from 6pm-10pm at The Lighthouse Hall!
To secure a ticket now, click here.
25-year-old Master KG's 2020 album Jerusalem, which includes his song Jerusalema featuring Nomcebo Zikode, reached global success and has now 4.1 million views on YouTube.
Before Jerusalem, Master KG released his debut album Skeleton Move, which includes Zanda Zakuza, who will also be performing alongside him, on the 28th.
Zanda is a South African house and kwaito singer/songwriter who became popular after the collaboration with Master KG.
If you'd like to see these two incredible musicians perform live, at the Master KG "Jerusalema" live show, then you'll need to get a ticket now! You don't want to miss it.
Throwback
On Monday the 30th of August from 2pm – 1am, Throwback will be giving you a whole line-up of great DJs who'll be playing the best tunes for you at Cargo!
At this event you'll hear Dancehall, Soca, House, Afrobeats and so much more.
So, get yourself a ticket and end the bank holiday partying in Shoreditch!
Lux Sundays
Why not treat yourself to some delicious food, fun games and good company, this bank holiday weekend?
On August the 29th from 6pm – 12am, head down to the Lux Sundays event, taking place at the Hoxton Pony.
From 6pm-7pm, they've also got bottomless rum punch for you, which you can pay for at the bar, to keep you going throughout the night!
This event gives you the best chilled, feel-good vibes and is a great event to attend for your birthday too, as they offer amazing birthday booths!
So come on and get yourself a ticket now!
Comedy Allstars Carnival Special
Get ready for the Comedy Allstars Carnival Special, hosted at the fun and neon-lit Sing Pong London!
From 6PM-10:30PM on bank holiday Monday 30th August, you can grab the chance to meet some of the UK's leading entertainers.
With a line-up of Quincy, Axel Blake, Junior Booker, Deano, Babatunde, and Shabba, you'll be treated to humour of the spilling-your-drink variety!
Settle down in the snazzy decorated space of Sink Pong, and let these charismatic and energetic star performers take you away.
Shakedown Day Party – Carnival Edition!
On Sunday the 29th of August from 3pm – 12am, stylishly celebrate Carnival weekend in Farringdon, (it's a secret venue & will be announced very soon!)
Here, you've got the tastiest food & drinks, amazing music, played by an outstanding line-up of DJs and of course, a great Carnival-inspired occasion, that you won't forget!
Girls, get your most vibrant, summer outfits on!
Boys — time to put on that Hawaiian shirt, because Shakedown Day Party's bringing you all the tropical, summer vibes!
Book now, to secure your tickets.
Sip 'N Stroke – Paint Party
Feeling creative? Well, Sip N' Stroke gives you the chance to unleash your creativity, whilst sipping on a tasty cocktail!
Taking place on Saturday 28th of August from 1pm – 4pm, join this paint party at Sink Pong.
And what's a party without music? Here, whilst you're channelling your inner artist, you can be singing/dancing along to R&B and Hip-Hop songs, that'll be playing in the background, on speakers.
You'll also have instructors who'll help you with your paintings, so that you can create a work of art that you'll be proud of! Book here now to have this amazing experience!
4 Corners Festival
Music and carnival vibes – everything you could ask of an epic night at the 4 Corners Festival!
Bank Holiday Monday 30th August – hosted at the Hertfordshire County Showground in St Albans from 12PM-10PM, experience the best in afrobeats, hip hop, UK garage, and a veritable rainbow of other urban musical genres!
The 4 Corners Festival has handpicked a legendary DJ and artist line-up over 50 strong, including 'The Square', dedicated to UK garage with a touch of jungle, and Tribal House, bringing you amapiano energy to keep you going until closing time.
No wonder tickets are selling fast!
Hip-Hop vs Dancehall Boat Party
Sea, salt, and sizzlin' tunes – get ready for the Hip-Hop vs Dancehall Boat Party!
Carried aboard the dazzling Golden Flame Boat, this epic night of urban, dancehall, and hip hop music lasts from 8PM Saturday 28th to 1AM.
Departing and returning from the Temple Pier, Victoria Embankment, ensure you start out the bank holiday weekend right with the best songs on the Thames.
With epic artists Ras Kwame and DJ Raskal at the helm, you can cruise the London in style. Don't be left adrift – book your tickets here!
Stampede – London's Biggest Post-Lockdown Party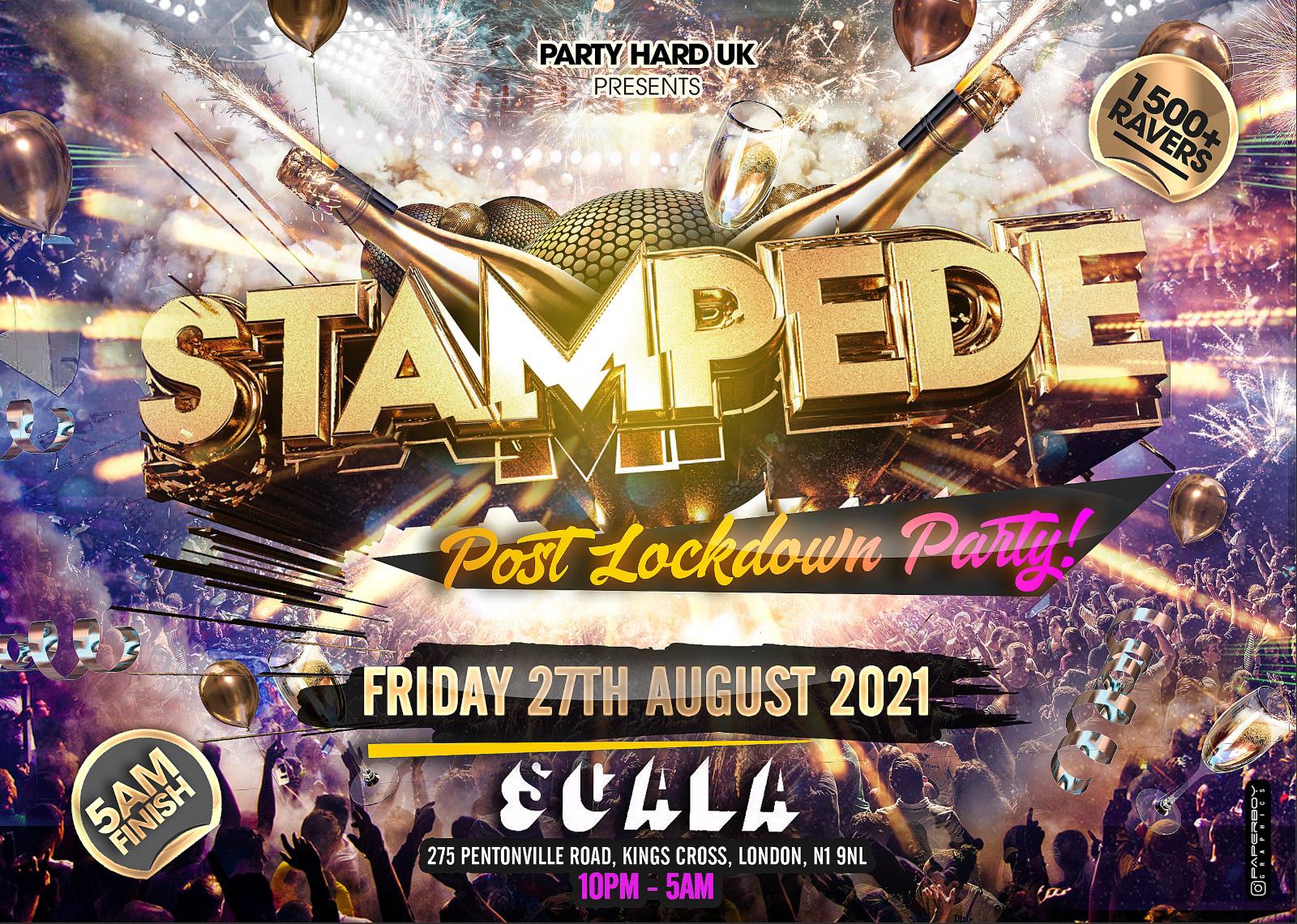 Get ready for the Stampede – post-lockdown party!
Start off your bank holiday early with Stampede, from Friday 27th 10PM 'till 5AM!
An epic night of the best urban music – bashment, hip hop, dancehall, soca, R&B, afrobeats, and more!
With a DJ and host line-up including Daggastar, Supa Nytro, Kwamz, and DJ Vibes among others, this is set to be a sold-out event!
Don't miss your chance to snatch up tickets here!
Kojo's Bank Holiday Comedy Jam & Party
Need a little laughter to boost your bank holiday weekend?
Look no further than Kojo's Bank Holiday Comedy Jam & Party!
Hosted by the brilliant Kojo Anim, this epic event will be held at Glitch London on Sunday 29th August.
With a line-up of the some of the best UK comedians including Eddie Kadi, White Yardie & Babatunde Aleshe, this night promises to be one to remember!
Book your chance to meet these stars live and in the flesh.
Treat yourself to bottomless prosecco or beer, and don't forget to stay for the after party!
Buy your tickets here.
Xlusive Fest 2021 – The Last Festival of the Summer